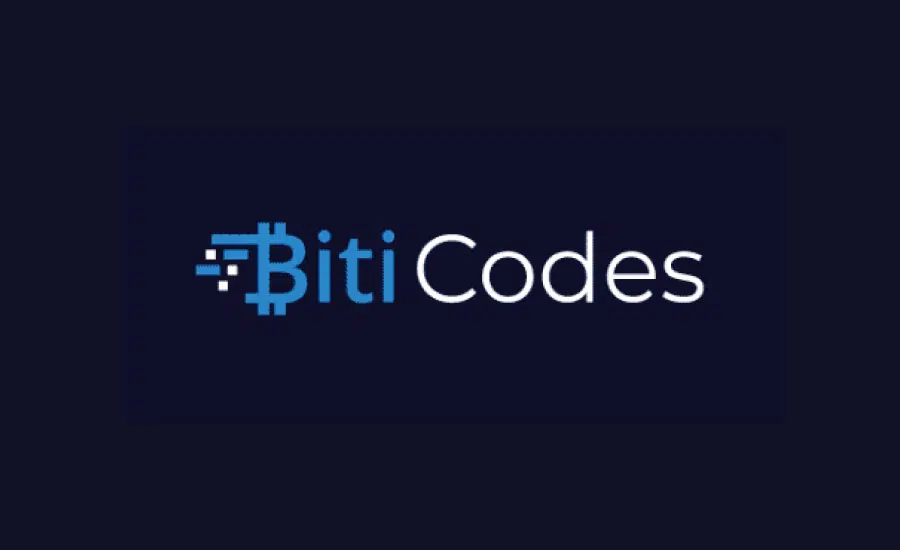 Don't get scammed by websites pretending to be Dash 2 Trade. Register your official Dash 2 Trade account through CryptoEvent and receive a FREE Personal Account Manager to help you with the setup process.
Official Dash 2 Trade Registration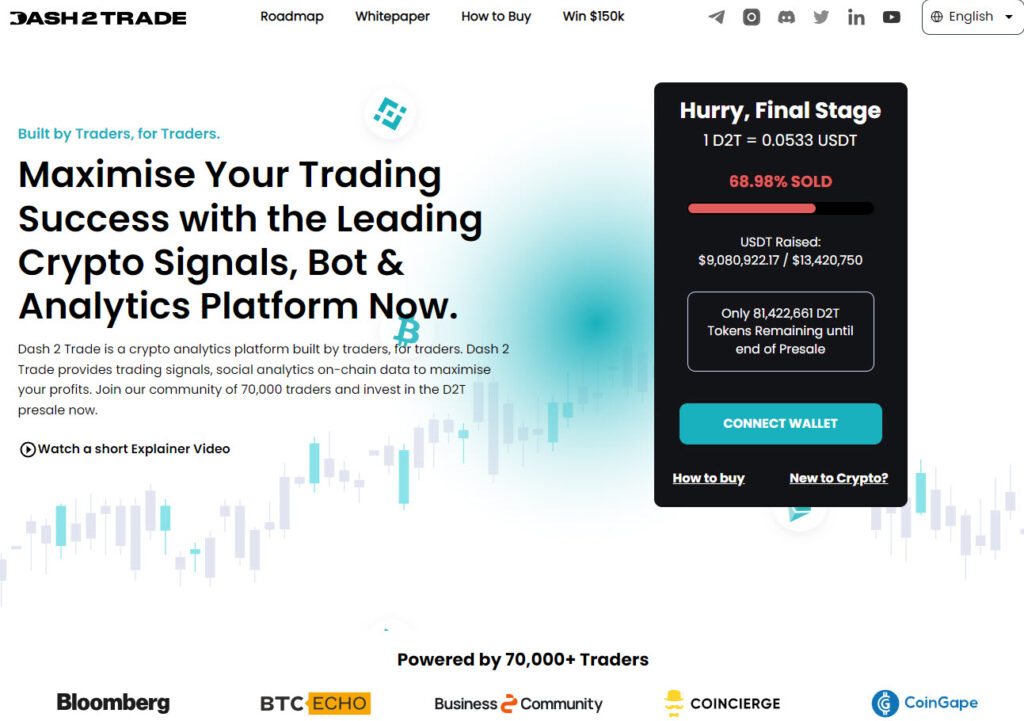 Dash 2 Trade is a new crypto product currently in its presale stage. As we all know, the crypto world has an abundance of scammers, and especially in recent events, we need to be more cautious.
Our initial company inspection revealed some concerning details that prompted further investigation. Unfortunately, we concluded that something nefarious is going on behind the scenes at Dash 2 Trade. We can see problematic elements in nearly every part of the website, so we'll take it from the top.
Dash 2 Trade $150,000 Contest
Right in the header, Dash 2 Trade promotes a contest with an alleged $150,000 award. However, there are a few caveats, and the first one is that the $150,000 comes in the company's native token.
Of course, that makes it prone to pump-and-dump schemes, but it's not uncommon for crypto projects to give away their native coin. What irked us while researching were the conditions for the giveaway. Namely, you need to hold $150 worth of the token to be in the prize pool.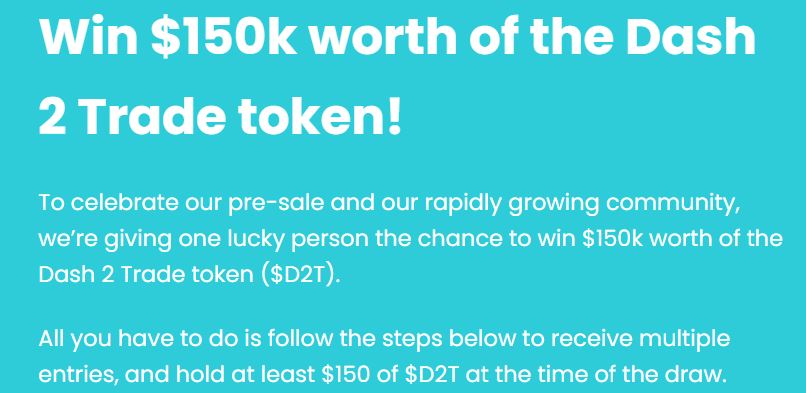 Admittedly, that's not much money for most people in crypto, but it's still in poor taste. Also, let's look at the realistic scenario:
People buy the native coin for the contest
The winner gets announced and gets $150,000 worth
People no longer need the token and sell it
The prize is no longer worth nearly $150,000
Powered By…
We could hark on the contest, but there's much more to cover. Let's scroll down on Dash 2 Trade's home page and see where it says "Powered by 70,000+ Traders". Under that, a scrolling element shows numerous well-known names in the finance industry. To name a few, we've seen Bloomberg, MarketWatch, and Yahoo Finance, but you can check out the full list yourself on the website.
Usually, similar elements contain links to articles the outlets have written about the product. Here, it's just an image, and we've manually checked most of the news sites for articles about Dash 2 Trade. Of course, there were none.

It's clear that the company tried to establish a false reputation by making it seem like it's already been covered by major outlets. This false connection is an indication of a disingenuous pattern.
Dash2Trade Missing Features
As you scroll further down the page, you'll see Dash 2 Trade present its features for those who want to buy in. However, even that's deceptive since it promotes social trading and auto trading as prominent features.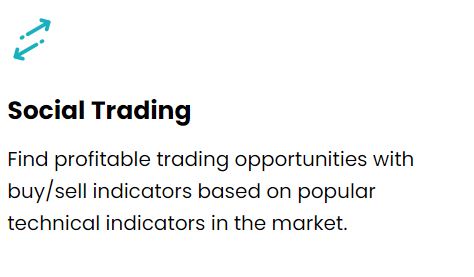 But if you look at the roadmap, you'll see that the auto-trader is planned for Q2 2024. Furthermore, there are no social trading features planned before Q4 2024. Promoting the product as an auto trader or social trader when the features are coming in a year, and a half at best is dishonest and predatory.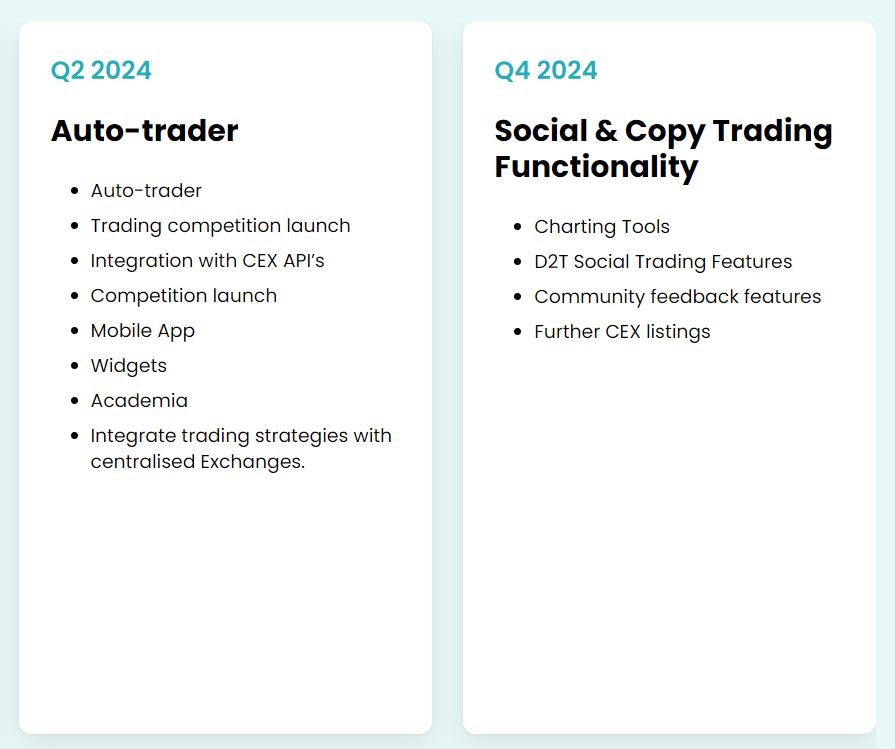 Learn 2 Trade
Learn 2 Trade and Dash 2 Trade are two related services, as made clear on the website (and by their names). However, Dash 2 Trade boasts about its sister company having 60,000 members that have given it four stars on Trustpilot. For the unaware, Trustpilot is a safety and trust-measuring website.
First off, it's a weird thing to brag about. Why didn't they brag about five-star ratings instead? There are more of those than there are four-star ratings. And to make matters worse, a quick Google search reveals that the 60,000 figure is a fabrication, with Learn 2 Trade having under 300 reviews total.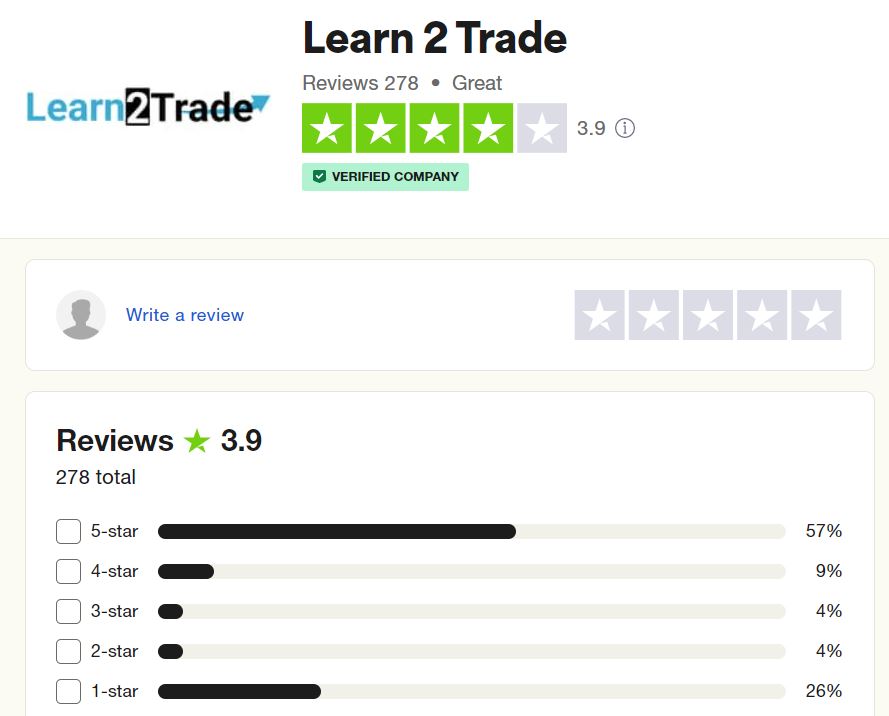 Lastly, many positive reviews sound made up, while some horror stories are in the one-star comments. A quarter of all ratings are one star, and users are clear about the company tricking them out of their money.
Conclusion
Dash 2 Trade is clearly a scam, as it has a well-established pattern of deceitful behavior. It doesn't even try to hide its malicious behavior, which makes what's going on behind the scenes even more questionable. Save your money, and don't buy into what's clearly attempting to be another hype-fueled crypto scam.