Corona Millionaire Review: Scam or Legit? Warning! Read Now!
Corona Millionaire is a new cryptocurrency trading platform that recently popped up to join the crypto trading market. It supposedly generates high-quality signals for cryptocurrency trades which will yield high profits. The platform is semi-automated, and so executed trades will be applied to a broker's account.
Cryptocurrency has become more and more acceptable and in common use in the past several years, and so there is a large number of trading platforms and auto-trading software that simplify cryptocurrency trading to basic knowledge, even for the most novice traders. Having simple and user-friendly tools that promise remarkable results is extremely tempting, and although many of the apps and software on the market are, indeed, legit and reliable, this is not true to all.
Nowadays, educational resources such as extensive guides and comprehensive tutorials are available for free. Whether you are interested in understanding the history of cryptocurrency, why and how it was developed, or you are interested in mining or trading – you can acquire all that information online, at the tip of your fingers. However, not everyone has the ability or capability to take the time to research, learn and understand how to manage and control cryptocurrency trading. And, unfortunately, although most of the data is available, the growing popularity of cryptocurrency also makes fertile soil for cons and scams.
We have taken upon ourselves to provide unbiased information about different trading options and brands, along with providing the knowledge base so that you will have all the tools and information you need to sort through this ever-growing market. 
In this review, we examine the new Corona Millionaire trading software Registration process, trading methods, ease of use, customer support, and overall reliability.  
Corona Millionaire Exposed
Corona Millionaire software is riding the hype of automated cryptocurrency platforms along with taking advantage of the public's fears of the global Coronavirus pandemic. It claims to automatically double, triple and even quadruple your investment for a brighter future. At a time when so many people have lost their jobs and are seeking, more than ever, to secure their future financially, there is no wonder that the Corona Millionaire trading software is an eye-catching product. But before you are tempted to follow the promise for financial stability and freedom, read the full review to find out – Is the Corona Millionaire app legit or a scam?
Is Corona Millionaire Legit?
There is no stated history nor ownership information of the Corona Millionaire software. Unlike most trading platforms, which provide information and background about their creators and inspiration, the Corona Millionaire offers no such details.  In fact, there is very little information about it in general. Unlike reputable platforms, such as the Bitcoin Revolution or Bitcoin Loophole, the Corona Millionaire website is extremely minimal and there is also almost no information or testimonials online. One should always keep in mind that before making any investment, it is wise to take the time for comprehensive research. As with anything else, and especially when it comes to matters of health and money, the internet is full of both legitimate and dodgy reviews, some are obviously tendentious but others cannot always be so easily spotted in the sea of information. Therefore, we will point out anything and everything to be considered before making a decision regarding the Corona Millionaire trading platform.
Corona Millionaire Full Review
Corona Millionaire is a trading platform with which members can trade digital assets. The software allegedly provides trading signals in the changing market conditions, based on three strategies, which are not actually specified on the website. The Corona Millionaire is said to utilize a sophisticated bot that uses Artificial Intelligence (AI) and Machine Learning (ML) to analyze the market and find profitable trading opportunities. The software is based on HFT – High-frequency trading. HFT is a trading method that executes a large number of transactions in milliseconds, employing powerful and advanced computer programs. Stating a 99.4% level of accuracy with a 0.01-second "time leap" ahead of the market, Corona Millionaire allegedly has an astonishing 300% profitability rate, making a $250 deposit yield over $1,000 in one day.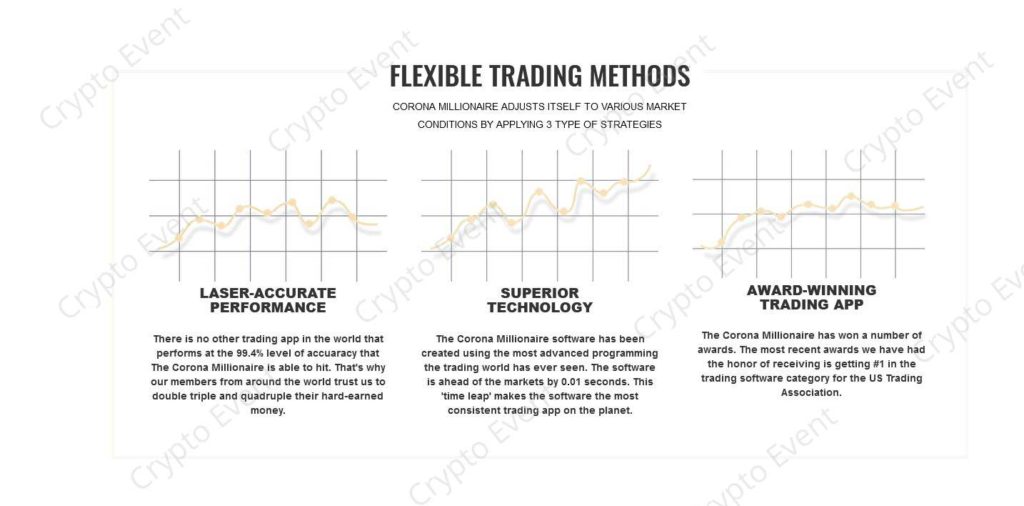 Corona Millionaire Stated Highlights:
Accuracy – Corona Millionaire states an accuracy rate of 99.4% thanks to using the HFT trading method and its smart algorithm.
Technology – Corona Millionaire purportedly has an advantage of 0.01 seconds over the markets, allowing its users to benefit from it to maximize their profit potential.
Platforms – The platform can be accessed from desktop and mobile devices, as long as an internet connection is available.  Downloading is not required and the registration is free of charge.
Signals – Corona Millionaire is said to generate high-quality signals for trades to be "applied directly into your trusted broker account". 
Deposit – The minimum deposit required for live trading is $250.
Profits – Corona Millionaire supposedly has up to a 300% profitability rate. Daily-earnings can come to over one thousand dollars. 
Automacy – Described as semi-automatic, although the Corona Millionaire software uses a bot, a broker will be required to execute transactions. 
Awards – The Corona Millionaire is said to have won several awards, including the best trading software by the US Trading Association.
Privacy – Corona Millionaire requires you to approve the Terms and Conditions after the initial signup, according to the EU General Data Protection Regulation, to ensure the privacy of its users and the protection of their personal data.
Security – You are not required to create a password upon the initial registration. One will need to be set by you to enable future login.
Accounts – The software enables you to use a practice account before you move to the live trading account.
Corona Millionaire Registration Process
Corona Millionaire registration is free. We have come across a statement claiming that the software is in the beta testing phase, which is why it is currently offered at no cost. Therefore, users are advised to hurry and open an account before a fee will be set. We do believe that the likelihood of that ever happening is pretty slim, given that similar, well established and tested platforms are available for free.
The Corona Millionaire registration process consists of 3 steps:
Registration form –

The Corona Millionaire homepage has a short registration form that requires you to provide a first name, last name, email address and a phone number according to your country of residence. The details you provide should, later on, be verified by the broker. A password is not required at that point. 

Initial deposit –

Because the software requires the engagement of a broker, the broker should be the one to receive your deposit and, when you move on to live trades, facilitate your transactions as well. A minimum of $250 deposit is required to start live trading, which can be made by credit or debit cards (Visa, Mastercard), wire, money transfer or e-wallets (Neteller, Skrill), including bitcoin wallets.

Start trading –

Corona Millionaire, much like most cryptocurrency trading platforms, provides demo trading mode in addition to the live trading. This means that members can try demo transactions to practice and test the settings before starting an actual live trade. With any platform, this is always a recommended step to get to know and understand the system and its features before risking any amount of money.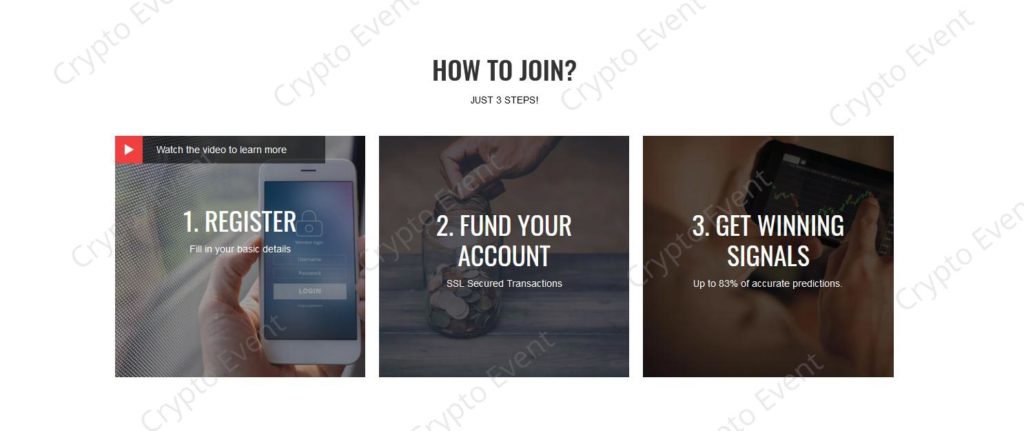 Is Corona Millionaire a Scam?
Unfortunately, YES. After research and tests, we conclude that Corona Millionaire should be labeled not-legit. We found no proof that the Corona Millionaire software has any technical advantage, new invention, patent or trade secrets over well-established platforms. Moreover, there is no basis to support their claim of a 300% daily profitability rate. The use of trading bots is a proven method, however, we highly recommend using platforms that have been on the market and demonstrated solid and stable results over several years.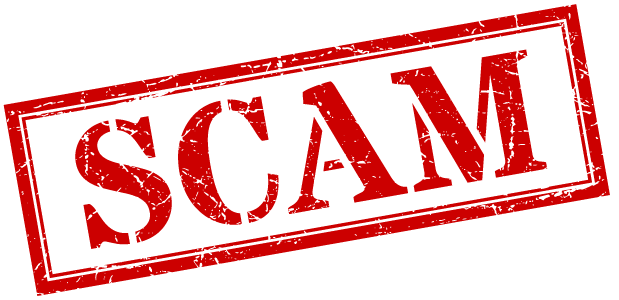 Corona Millionaire Scam
The statement of such a high profitability rate with the Corona Millionaire software already served as a warning sign for us. Upon further examination, we found additional issues that cause us to believe that Corona Millionaire is a short-lived stunt, taking advantage of the current world economic situation. Do not be fooled or tempted by unfounded, empty promises of quick money with unknown brands that cannot provide experience-based proofs. We assume that the Corona Millionaire will vanish as quickly as it appeared, especially once the Coronavirus (COVID-19) pandemic will come to an end.
More reasons we believe that the Corona Millionaire is a Scam:
It appeared out of nowhere in the midst of an ongoing global pandemic and was also named after it. Corona Millionaire claims to be innovative in a way that will make you a fortune in no time, although there is no proof of any such new technology or profitability rate.

We found references to the Corona Millionaire software being on the Beta testing stage. More of a reason to avoid investing with it, at the moment at least. Making statements on the promotional video such as: registration "is free for a limited time" and "seats to this exclusive opportunity are quickly running out" should also make you avoid it, especially since there are so many good free options on the market. This is merely a sales technique. Forex trading and brokers are not running out, there really are no time or other limitations.

The testimonials are somewhat odd. There are hardly references to successes, but mainly intention declarations of trying the Corona Millionaire software. We did not find online reviews praising the system or such that we could conclude that are real members' reviews.

The Corona Millionaire software has a promotional video, which offers no live or identifiable speakers. The whole thing can be stripped down to a Forex trading advertisement. It states that is can "guaranty high returns with Zero risk", something that cannot be guaranteed with any Forex trading brokers, software or firms. You should always avoid such services that claim "no risk returns".

There is no contact information. Even the Contact Us form is actually a registration form that would lead you to sign up, whether you intended to do so or not. The lack of contact information in itself is disturbing enough.

In general, there is very little information on Corona Millionaire, including on the official website. Knowledge is power. If you are offered no educational or informative resources – avoid it. 

Corona Millionaire Review – Conclusion
There is really no good evidence or reason to believe that Corona Millionaire could deliver high returns if any. On the contrary, there are enough facts to support the conclusion to steer away from it. 
Corona Millionaire FAQ:
🎯 What is Corona Millionaire?
Corona Millionaire is a  semi-automated Forex trading platform that uses technical indicators to provide trading signals to execute digital trades.
🎯 Is Corona Millionaire free?
Corona Millionaire registration is free, although the promotional video states that there would soon be a registration fee, the amount was not disclosed. However, you are required to deposit a minimum of $250 to start trading.
🎯How much money can I make with Corona Millionaire?
Corona Millionaire can supposedly quadruple your investment, meaning that with the minimum deposit of $250, you could make an average of $1000 a day.
🎯 Does Corona Millionaire work?
Corona Millionaire is simply a trading platform that will connect you to a broker in order to execute trades in digital assets. Although there is always the possibility of successful trades that will yield high profits, this type of trading is speculative and carries a level of risk. We advise you to choose a reputable platform that works with licensed brokers.
🎯 Is Corona Millionaire scam or legit?
There is hardly any information about the Corona Millionaire, and there seems to be more Stop than Go signs. Unfortunately, this is not a software that we can recommend and we highly advise you not to embark on this endeavor.